Interoperability of Health Digitalization
Case Study on Use of Information Technology for Maternal and Child Health Services in Indonesia
Keywords:
health digitalization, interoperability, maternal and child health
Abstract
: Introduction : Maternal and child health (MCH) is a global priority as health care innovation continues to evolve, including the use of information and communication technology. Studies showed that interoperable information systems can improve the quality of health services and at the same time facilitate the integration of data for the purpose of monitoring and evaluating the performance of health services, especially MCH. Aims : This study aims to identify various maternal and child health information systems used in Indonesia and opportunity of interoperability between systems to support continuum of care services. Methodology: Qualitative descriptive research was conducted in Yogyakarta Province from November to December 2020. This study assessed MCH applications that have been used in public and private primary health care, hospitals, health offices and in the community by identifying their functions and mapped data elements used by each application to assess potential interoperability between systems. The online focus group discussions with various application providers was conducted to explore the challenges of interoperability between digital systems. Results and Discussion : There were 18 maternal and child health information systems have been developed by the government (central and local), health facilities and private sector. The initiation of interoperability between systems has not yet occurred, except to support regular reporting at the health office and Ministry of Health level. Interoperability between information systems required efforts to improve information technology facilities and infrastructure, development of health data standards, strengthening governance and regulation and utilization of data as an effort to monitor, evaluation and continuity of interoperability between systems to support the digitalization of services and routine reporting. Conclusions and Recommendations : Digitalization of MCH services in Indonesia has the opportunity to support the continuum of care through an interoperable system. However, several enabler factors need to be prepared to support interoperability between information systems.
Downloads
Download data is not yet available.
References
Smeru. COVID-19 Impacts on Nutrition and Maternal Child Health Services: Case Study in Five Regions in Indonesia. Catatan Penelitian Smeru No.5.(2020).
Yusni Zainal, Guardian Yoki Sanjaya, Mubasysyir Hasanbasri. The Importance of Information System for Managing Routine Data for Maternal and Child Health Monitoring. (2013).
Sofaer, Shoshanna. Qualitative Methods: What Are They and Why Use Them?. Health Services Research 34 : 5 Part II (1999).
World Health Organization. Classification of Digital Health Interventions. (2018)
World Health Organization and International Telecommunication Union. 2020. Digital Health Platform: Building a Digital Information Infrastructure (Infostructure) for Health. Geneva. Licence: CC BY-NC-SA 3.0 IGO
Hugoson, MA. Centralized versus Decentralized Information Systems: A Historical Flashback. International Federation for Information Processing, AICT 303, pp. 106–115. (2009), doi: https://doi.org/10.1007/978-3-642-03757-3_11
World Health Organization. Draft Global Strategy on Digital Health 2020–2025. (2020)
World Health Organization. 2016. Sixty-Ninth World Health Assembly: Framework of Engagement with Non-State Actors. (2016).
Ismail, Nanang, et al. "Interoperability and Reliability of Multiplatform MPLS VPN: Comparison of Traffic Engineering with RSVP-TE Protocol and LDP Protocol." Communication and Information Technology Journal, vol. 11, no. 2, 2017, pp. 57-65, doi:10.21512/commit.v11i2.2105. (2017)
Binus. 2019. FHIR: Fast Healthcare Interoperability Resources. https://mti.binus.ac.id/2019/08/09/fhir-fast-healthcare-interoperability-resources/.
Integrating the Healthcare Enterprise (IHE) Europe. 2018. The IHE Connectathon: What is it? How is it done? Version 006. www.ihe-europe.net
Vimalachandran, P., Wang, H., Zhang, Y., Zhuo, G. The Australian PCEHR system: Ensuring Privacy and Security through an Improved Access Control Mechanism. European Alliance for Innovation. (2016) doi: 10.4108/eai.9-8-2016.151633
Mansoor, Muhammad Ehsan., Majeed, Rashid. Achieving Interoperability among Health Care Organizations. Sweden. (2010).
Mills, Samuel, et al. Unique health identifiers for universal health coverage. Journal of Health, Population and Nutrition. 38 (1):22. (2019), doi: 10.1186/s41043-019-0180-6
Adler, Julia, et al. Benchmarking health IT among OECD Countries: Better Data for Better Policy. J Am Med Inform Assoc. 2014;21: 111–16. doi: 10.1136/amiajnl-2013-001710. (2013), doi: 10.1136/amiajnl-2013-001710
Michelsen, H. Brand, Achterberg P., Wilkinson J. Health Evidence Synthesis Report. Promoting Better Integration of Health Information System: Best Practices and Challenges. World Health Organization. (2015).
Data and Information Center, The Ministry of Health. 2020. One Health Data Policy.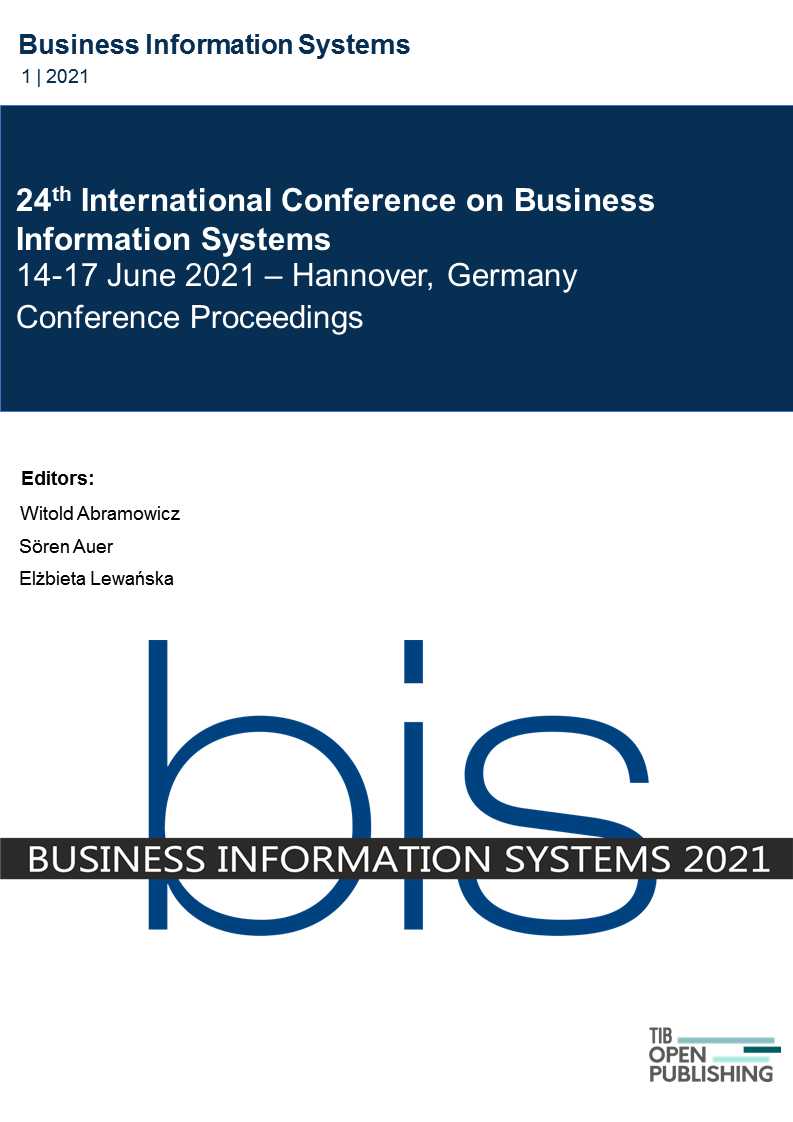 Downloads
How to Cite
Lazuardi, L., Sanjaya , G. Y., Ali, P. B., Siahaan, R. G. M., Achmad, L., & Wulandari, H. . (2021). Interoperability of Health Digitalization: Case Study on Use of Information Technology for Maternal and Child Health Services in Indonesia. Business Information Systems, 1, 317–327. https://doi.org/10.52825/bis.v1i.53
Conference Proceedings Volume
License
Copyright (c) 2021 Lutfan Lazuardi, Guardian Yoki Sanjaya , Pungkas Bahjuri Ali, Renova Glorya Montesori Siahaan, Lia Achmad, Hanifah Wulandari
This work is licensed under a Creative Commons Attribution 4.0 International License.