Universities as Service Providers
A Better Understanding of Third Mission to Promote Sustainable Development
Keywords:
Third Mission, Transfer, Universities, Services, Cooperation
Abstract
The UNESCO World Programme of Action on ESD suggests that universities bear a social responsibility by generating knowledge and innovations (BMBF 2022). Universities fulfill this task by supporting society in current issues, such as the sustainable structural change of their region, by offering so-called Third Mission activities (TMA). However, third mission is a term that at first meets with a lack of understanding, according to an unpublished survey from the Transfer Assessment Toolbox (TBT) project of the Transfer and Innovation Service Saxony-Anhalt (TransInno_LSA). Following on from this, the TBT project further explored whether a simplified designation of TMA as services could be considered.
References
Westermann, Georg et al. (2022): Third Mission erfassen, strukturieren und bewerten. Wissenschaftsmanagement, 01/2022, Bonn: Lemmens Medien GmbH, Verlag-Beratung-Weiterbildung.
Boden, Carolin et al. (2019): Third Mission – eine operationale Definition zur Messung gesellschaftsrelevanter Aktivitäten, In: Westermann, G.; Reinhold, S. (eds.) (2019): Transfer und Third Mission: Das Konzept eines zukunftsfähigen "Transfer- und Innovations-Service" der Hochschulen für angewandte Wissenschaften in Sachsen-Anhalt. Hochschule Harz, Wernigerode: 200–211.
Bundesministerium für Bildung und Forschung (BMBF) (2022): Hochschule, https://www.bne-portal.de/bne/de/nationaler-aktionsplan/die-bildungsbereiche-des-nationalen-aktionsplans/hochschule/hochschule.html [14.02.2022]
Witzel, Andreas (1985): Das problemzentrierte Interview. Jüttemann, Gerd (ed.): Qualitative Forschung in der Psychologie: Grundfragen, Verfahrensweisen, Anwendungsfelder. Weinheim. Beltz: 227–255.
Mayring, Philipp; Fenzl, Thomas (ed.) (2014): Qualitative Inhaltsanalyse. Baur, N., Blasius, J. (eds.), Handbuch Methoden der empirischen Sozialforschung (S. 543–558). Wiesbaden: Springer VS. https://doi.org/10.1007/978-3-531-18939-0_38
Bruhn, Manfred; Meffert, Heribert; Hadwich, Karsten (2019): Handbuch Dienstleistungsmarketing (2. Aufl.). Wiesbaden: Springer Gabler. https://doi.org/10.1007/978-3-658-17233-6
Rieck, André (2011): Qualitätsprüfung komplexer Dienstleistungen. Wiesbaden: Gabler Verlag. https://doi.org/10.1007/978-3-8349-6322-2
Schnabel, Ulrich. G. (2013): Management des intellektuellen Kapitals wissensintensiver Dienstleister. Wiesbaden: Springer Gabler. https://doi.org/10.1007/978-3-658-03369-9
Bruhn, Manfred; Hadwich, Karsten (ed.) (2019): Service Coopetition – Dienstleistungen im Spannungsfeld von Wettbewerb und Kooperation. Bruhn, M., Hadwich, K. (eds.) (2019): Kooperative Dienstleistungen. (S. 4–35). Wiesbaden: Springer Gabler. https://doi.org/10.1007/978-3-658-26389-8_1
Braun, Corina (2016): Komplexität interner Dienstleistungen. Wiesbaden: Springer Gabler. https://doi.org/10.1007/978-3-658-11512-8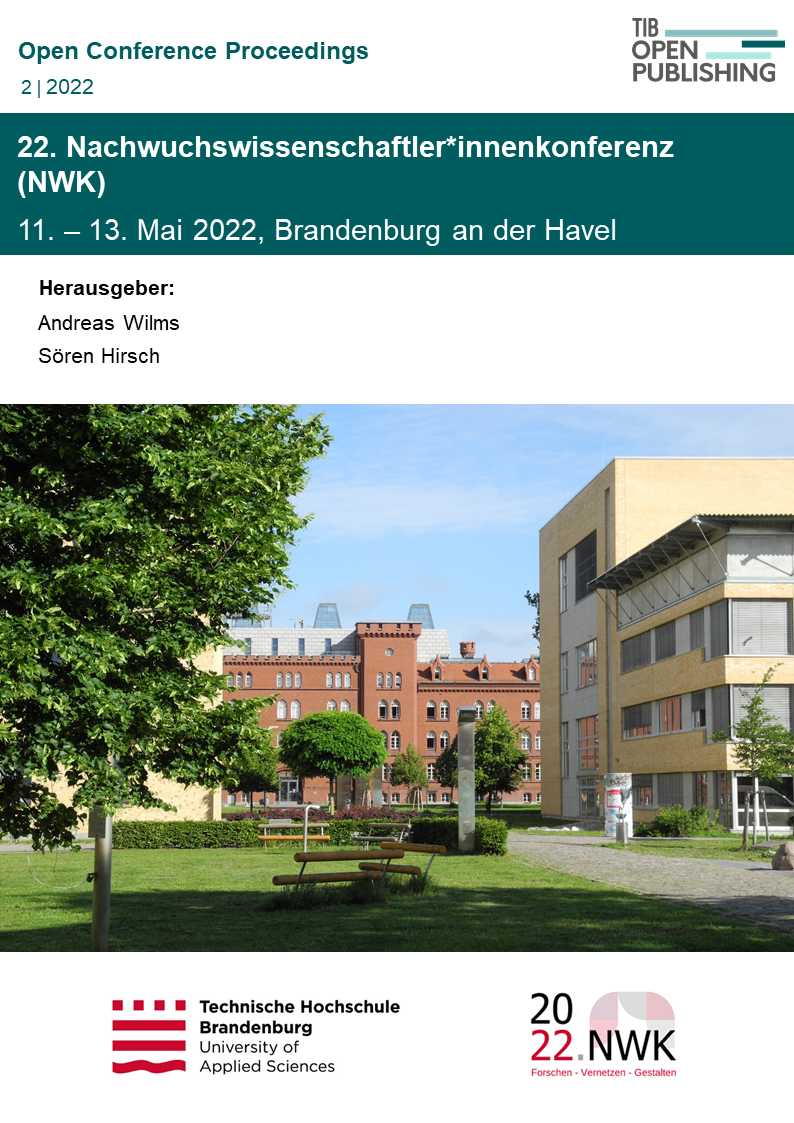 Downloads
How to Cite
Janky, B., Schubert, C., & Spaunhorst, R. (2022). Universities as Service Providers: A Better Understanding of Third Mission to Promote Sustainable Development. Open Conference Proceedings, 2, 99–103. https://doi.org/10.52825/ocp.v2i.159
Section
Beiträge zur / Contributions to the 22. Nachwuchswissenschaftler*innenkonferenz (NWK)
License
Copyright (c) 2022 Beatrix Janky, Carolin Schubert, Rebecca Spaunhorst
This work is licensed under a Creative Commons Attribution 4.0 International License.