RDMkit: The Research Data Management Toolkit for Life Sciences
Keywords:
Crowdsourced, RDM, Knowledge Resource
Abstract
Effective data management extends over the entire life cycle of data, from the point of creation through to dissemination and archiving, and usually continues long after a research project is concluded. Tailored guidance for management of research data is increasing its importance among data-driven scientific investigations. There is now increasing demand for Research Data Management (RDM), by funders and host institutions, for researchers to develop and implement data management plans for projects. The RDMkit, by ELIXIR Europe, is an open community-led resource designed to share knowledge on how to carry out RDM in life sciences research. It fills the training and learning gap by providing knowledge on domain-focused RDM considerations, task-focused solutions and resources, and tool assemblies that showcase real-life examples addressing how combinations of tools can be used to go through the data life cycle. The technical infrastructure of the RDMkit is reproducible, making it possible for other organisations to use the structure as a guide and inspiration to set up RDM source for their users. In this talk, RDMkit will be introduced with example best practice guidelines, and integrations and knowledge sources.
References
Marjan Grootveld, Ellen Leenarts, Sarah Jones, Emilie Hermans, & Eliane Fankhauser. (2018). OpenAIRE and FAIR Data Expert Group survey about Horizon 2020 template for Data Management Plans (1.0.0). Zenodo. https://doi.org/10.5281/zenodo.1120245
Harrow J, Drysdale R, Smith A, Repo S, Lanfear J, Blomberg N. ELIXIR: providing a sus-tainable infrastructure for life science data at European scale. Bioinformatics. 2021 Aug 25;37(16):2506-2511. doi: 10.1093/bioinformatics/btab481. PMID: 34175941; PMCID: PMC8388016.
RDMkit Community. The Research Data Management toolkit for Life Sciences. https://rdmkit.elixir-europe.org/
Philippe Rocca-Serra, Wei Gu, Vassilios Ioannidis, Tooba Abbassi Daloii, Salvador Capel-la-Gutierrez, Ishwar Chandramouliswaran, Andrea Splendiani, Tony Burdett, Robert T. Giessmann, David Henderson, Dominique Batista, Allyson Lister, Ibrahim Emam, Yojana Gadiya, Lucas Giovanni, Egon Willighagen, Chris Evelo, Alasdair J. G. Gray, Philip Gribbon, … the FAIR Cookbook Recipes' Authors. (2022). The FAIR Cookbook - the essential re-source for and by FAIR doers (1.0). Zenodo. https://doi.org/10.5281/zenodo.7156792
Sansone SA, McQuilton P, Rocca-Serra P, Gonzalez-Beltran A, Izzo M, Lister AL, Thurston M; FAIRsharing Community. FAIRsharing as a community approach to standards, repositories and policies. Nat Biotechnol. 2019 Apr;37(4):358-367. doi: 10.1038/s41587-019-0080-8. PMID: 30940948; PMCID: PMC6785156.
Niall Beard, Finn Bacall, Aleksandra Nenadic, Milo Thurston, Carole A Goble, Susanna-Assunta Sansone, Teresa K Attwood, TeSS: a platform for discovering life-science training opportunities, Bioinformatics, Volume 36, Issue 10, May 2020, Pages 3290–3291, https://doi.org/10.1093/bioinformatics/btaa047
Ison J, Ienasescu H, Chmura P, Rydza E, Ménager H, Kalaš M, Schwämmle V, Grüning B, Beard N, Lopez R, Duvaud S, Stockinger H, Persson B, Vařeková RS, Raček T, Vondrášek J, Peterson H, Salumets A, Jonassen I, Hooft R, Nyrönen T, Valencia A, Capella S, Gelpí J, Zambelli F, Savakis B, Leskošek B, Rapacki K, Blanchet C, Jimenez R, Oliveira A, Vriend G, Collin O, van Helden J, Løngreen P, Brunak S. The bio.tools registry of software tools and data resources for the life sciences. Genome Biol. 2019 Aug 12;20(1):164. doi: 10.1186/s13059-019-1772-6. PMID: 31405382; PMCID: PMC6691543.
Pergl, R., Hooft, R., Suchánek, M., Knaisl, V. and Slifka, J., 2019. "Data Stewardship Wiz-ard": A Tool Bringing Together Researchers, Data Stewards, and Data Experts around Data Management Planning. Data Science Journal, 18(1), p.59. DOI: http://doi.org/10.5334/dsj-2019-059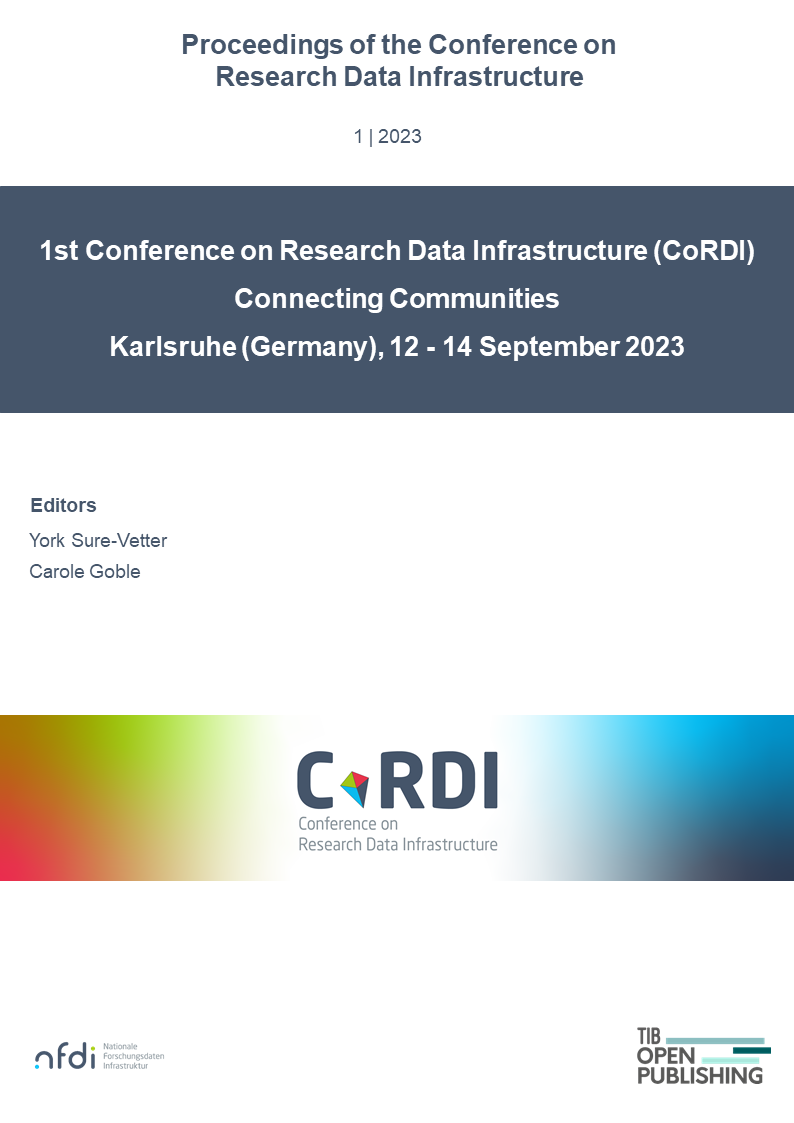 Downloads
Conference Proceedings Volume
License
Copyright (c) 2023 Nazeefa Fatima, Pinar Alper, Frederico Bianchini, Korbinian Bösl, Ulrike Wittig, Carole Goble, Frederik Coppens
This work is licensed under a Creative Commons Attribution 4.0 International License.
Received 2023-04-18
Accepted 2023-06-29
Published 2023-09-07