Schema.org as a Lightweight Harmonization Approach for NFDI
Keywords:
Metadata Harmonization, Lightweight Semantics, Metadata, Metadata Schema, Bioschemas, Schema.org
Abstract
Schema.org is a controlled vocabulary that makes it easier for web pages to describe their actual content in a semantic, structured and machine-processable way. It is recognized by major search engines and data aggregators, making it easier for researchers to expose metadata describing their research outcomes. Here we present how Schema.org is used (or planned to be) by some NFDI consortia, becoming a lightweight approach to harmonize digital objects coming from different sources so they can be connected to each other in a meaningful way
References
Guha RV, Brickley D, Macbeth S (2016) Schema.org. Communications of the ACM 59 (2): 44‑51. https://doi.org/10.1145/2844544
Gray A, Castro LJ, Juty N, Goble C. (2023) Schema.org for Scientific Data. Artificial Intelligence for Science. World Scientific; pp. 495–514. https://doi.org/10.1142/9789811265679_0027
Benjelloun O, Chen S, Noy N. Google Dataset Search by the Numbers. 2020. https://doi.org/10.48550/arXiv.2006.06894
Gray AJG, Goble C, Jimenez RC (2017) From Potato Salad to Protein Annotation. ISWC Posters and Demo session. URL: http://ceur-ws.org/Vol-1963/paper579.pdf
Shepherd A et al. (2022). Science-on-Schema.org v1.3.0. Zenodo. https://doi.org/10.5281/zenodo.6502539
Wu M, Juty N, RDA Research Metadata Schemas WG, Collins J, Duerr R, Ridsdale C, et al. (2022). Guidelines for publishing structured metadata on the Web. RDA. https://doi.org/10.15497/RDA00066
Caracciolo, C., Stellato, A., Morshed, A., Johannsen, G., Rajbhandari, S., Jaques, Y., & Keizer, J. (2013). The AGROVOC Linked Dataset. Semantic Web, 4(3), 341–348. https://doi.org/10.3233/SW-130106
Pommier C, Gruden K, Junker A et al. (2021). ELIXIR Plant sciences 2020-2023 Roadmap. F1000Research 2021, 10(ELIXIR):145 https://doi.org/10.7490/f1000research.1118482.1
Tietz T, Bruns S, Sack H, Posthumus E. (version 1.1) NFDI4Culture Ontology. Available at https://nfdi4culture.de/ontology
García, L. J., Giraldo, O. L., Castro, A. G., & Dumontier, M. (2017). Bioschemas: schema. org for the Life Sciences. In SWAT4LS. https://ceur-ws.org/Vol-2042/paper33.pdf
Michel, F. (2018). Bioschemas & Schema. org: a lightweight semantic layer for life sciences websites. Biodiversity Information Science and Standards, 2, e25836. https://doi.org/10.3897/biss.2.25836
Castro LJ, Palagi PM, Beard N, Attwood TK, Brazas MD. (2022) Bioschemas Training Profiles: A set of specifications for standardizing training information to facilitate the discovery of training programs and resources. bioRxiv. https://doi.org/10.1101/2022.11.24.516513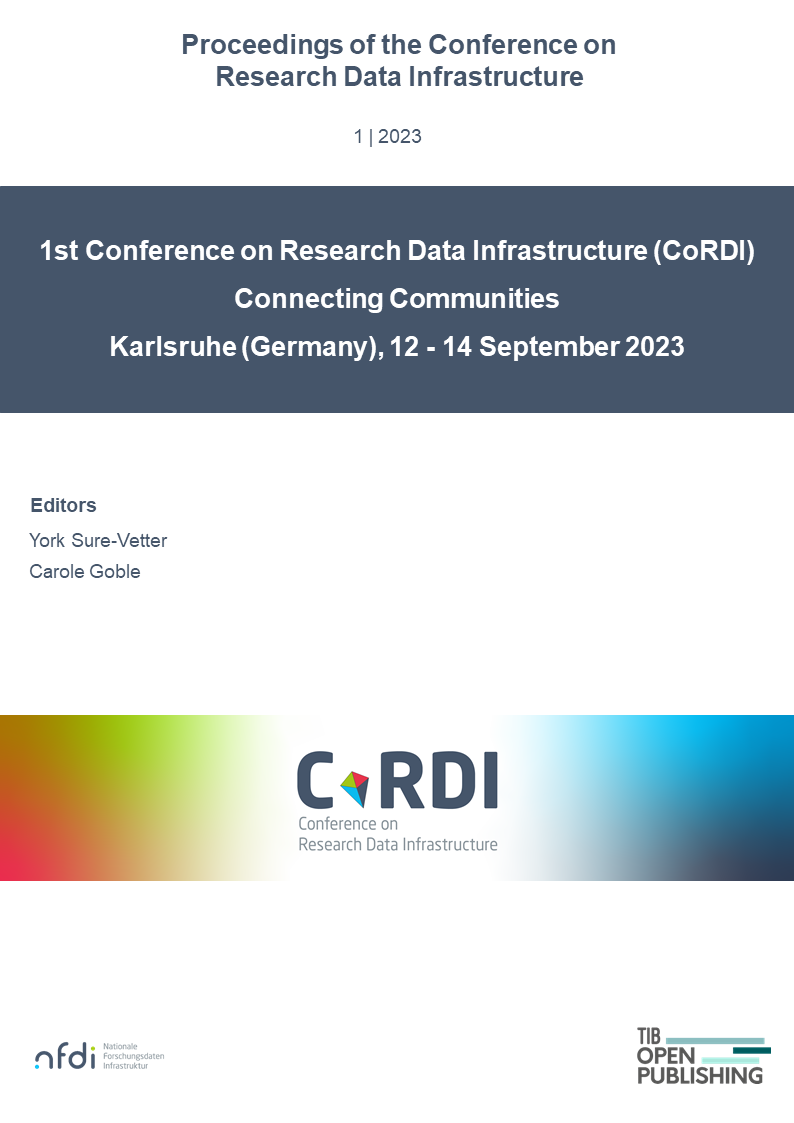 Conference Proceedings Volume
License
Copyright (c) 2023 Leyla Jael Castro, Juliane Fluck, Daniel Arend, Matthias Lange, Daniel Martini, Steffen Neumann, Sonja Schimmler, Dietrich Rebholz-Schuhmann
This work is licensed under a Creative Commons Attribution 4.0 International License.
Received 2023-04-25
Accepted 2023-06-29
Published 2023-09-07