A Survey on the Current Status of Research Data Management in Mecklenburg-Vorpommern
Preliminary Results for a Questionnaire Study Among Researchers
Keywords:
Survey Research, Research Data Management, Mecklenburg-Vorpommern, Mecklenburg- Western Pomerania, Higher Education Research, Online Survey
Abstract
High quality research data management (RDM) is essential to support state of the art comprehensible and reproducible research processes and, thus, foster the sustainable production of novel and trustworthy research findings. While there are lots of national and international initiatives supporting researchers in all respects of RDM, the local infrastructures provide the foundation for these concepts. In this contribution, we present preliminary results of a study that collects the requirements of researchers on these local infrastructures in all seven higher education research institutions in Mecklenburg-Vorpommern (MV).
References
O. Arndt, L. Glatz, B. Hummel, M. Porst, W. Schabalowski, and S. Skubatz, Umfrage zum Forschungsdatenmanagement an der FH Potsdam, H. Neuroth and M. Ortgiese, Eds. Verlag der Fachhochschule Potsdam, p. 190, ISBN: 9783934329959.
M. Senft, U. Stahl, and N. Svoboda, "Research data management in agricultural sciences in germany: We are not yet where we want to be," PLOS ONE, vol. 17, no. 9, C. Pulvento, Ed., e0274677, Sep. 2022. DOI: 10.1371/journal.pone.0274677.
H. Enke, N. Fiedler, T. Fischer, et al., Leitfaden zum Forschungsdaten-Management: Handreichungen aus dem WissGrid-Projekt, J. Ludwig and H. Enke, Eds. Gl¨uckstadt: Verlag Werner H¨ulsbusch, 2013, ISBN: 978-3-86488-032-2. [Online]. Available: https://resolver.sub.uni-goettingen.de/purl?gro-2/14366.
M. Schröoder, S. Spors, and F. Krüger, Questionnaire on the current status of research data management in mecklenburg-vorpommern, de, 2023. DOI: 10.5281/ZENODO.8099171.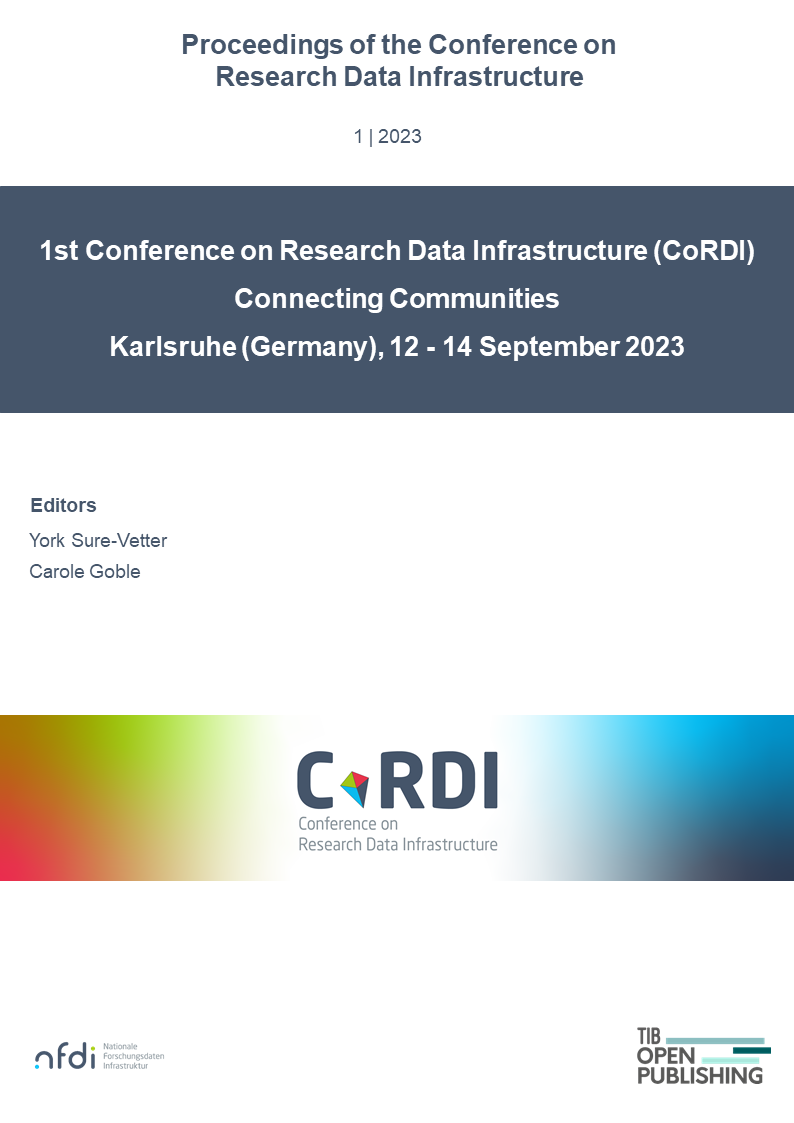 Downloads
Conference Proceedings Volume
License
Copyright (c) 2023 Max Schröder, Sascha Genehr, Rüdiger Köhling, Stefan Schmidt, Ralf Schneider, Sascha Spors, Gero Szepannek, Dagmar Waltemath, Frank Krüger
This work is licensed under a Creative Commons Attribution 4.0 International License.
Received 2023-04-25
Accepted 2023-06-29
Published 2023-09-07