When Data Crosses Borders – Join Forces!
Multidisciplinary Use Cases Within NFDI
Keywords:
NFDI, Research Data Management, Use-Cases, Collaboration, interdisciplinary research, multidisciplinary research data
Abstract
A multidisciplinary use-case for integrating research data involves data, software and methods across research disciplines to address research questions that cannot be effectively addressed by a single discipline or method alone. They thus contribute to NFDI's goal to make a significant contribution to answering novel interdisciplinary research questions. This paper presents some examples for multidisciplinary use-cases that illustrate that, in order to reap the added benefits of these use-cases, some effort is required. The paper concludes by proposing some cornerstones for handling multidisciplinary use-cases.
References
Gemeinsame Wissenschaftskonferenz von Bund und Ländern, Bund-Länder-Vereinbarung zu Aufbau und Förderung einer Nationalen Forschungsdateninfrastruktur (NFDI) vom 26. November 2018, November, 2018, https://www.gwk-bonn.de/fileadmin/Redaktion/Dokumente/Papers/NFDI.pdf
RfII – German Council for Scientific Information Infrastructures, Discussion Paper on the Enhancement of Research Data Infrastructures, 2020, https://rfii.de/?p=4422
Tansley, S., & Tolle, K. M. (2009). The fourth paradigm: data-intensive scientific discovery (Vol. 1). A. J. Hey (Ed.). Redmond, WA: Microsoft research.
Üblacker, M. M., Grigoropoulou, A., Garcia Marquez, J., Torres Cambas, Y., Schürz, C., Floury, M., Tomiczek, T., Bremerich, V., Amatulli, G., & Domisch, S. (2023). hydrographr: Scalable Hydrographic Data Processing in R. R-package available at https://glowabio.github.io/hydrographr/.
Amatulli, G., Marquez, J., G., Sethi, T., Kiesel, J., Grigoropoulou, A., Üblacker, M. M., Longzhu, Q., S., Domisch, S. (2022). Hydrography90m: a new high-resolution global hydrographic dataset. Vol 14 (10), https://doi.org/10.5194/essd-14-4525-2022.
Neteler, M., Bowman, M., H., Landa, M., Metz, M. (2012). GRASS GIS: A multi-purpose open source GIS, Environmental Modelling & Software, Vol 31, pp. 124-130. https://www.sciencedirect.com/science/article/abs/pii/S1364815211002775
Linares, J., Ebert, B., Eberhardt, J., Frohne, K., Sauerland, K., Mozygemba, K., Miller, B., Collaborative Research Data Management Support for FEdA projects. Zenodo. https://doi.org/10.5281/zenodo.7624583.
SLInBio - Urban Lifestyles and the Valuation of Biodiversity – Dragonflies, Grasshoppers, Bumblebees & Co. FEdA - Biodiversity Initiative for the Conservation of Biodiversity. https://www.feda.bio/en/slinbio/ (accessed on 23.04.2023)
GFBio - German federation for Biological Data. https://www.gfbio.org/ (accessed on 23.04.2023)
Data Centers GFBio - German federation for Biological Data. https://www.gfbio.org/data-centers/. (accessed on 23.04.2023)
Qualiservice. https://www.qualiservice.org/en/. (accessed on 23.04.2023)
Taffner, J., Eberhardt, J., "FEdA Forschungsdaten-Policy" Zenodo. https://zenodo.org/record/7798305.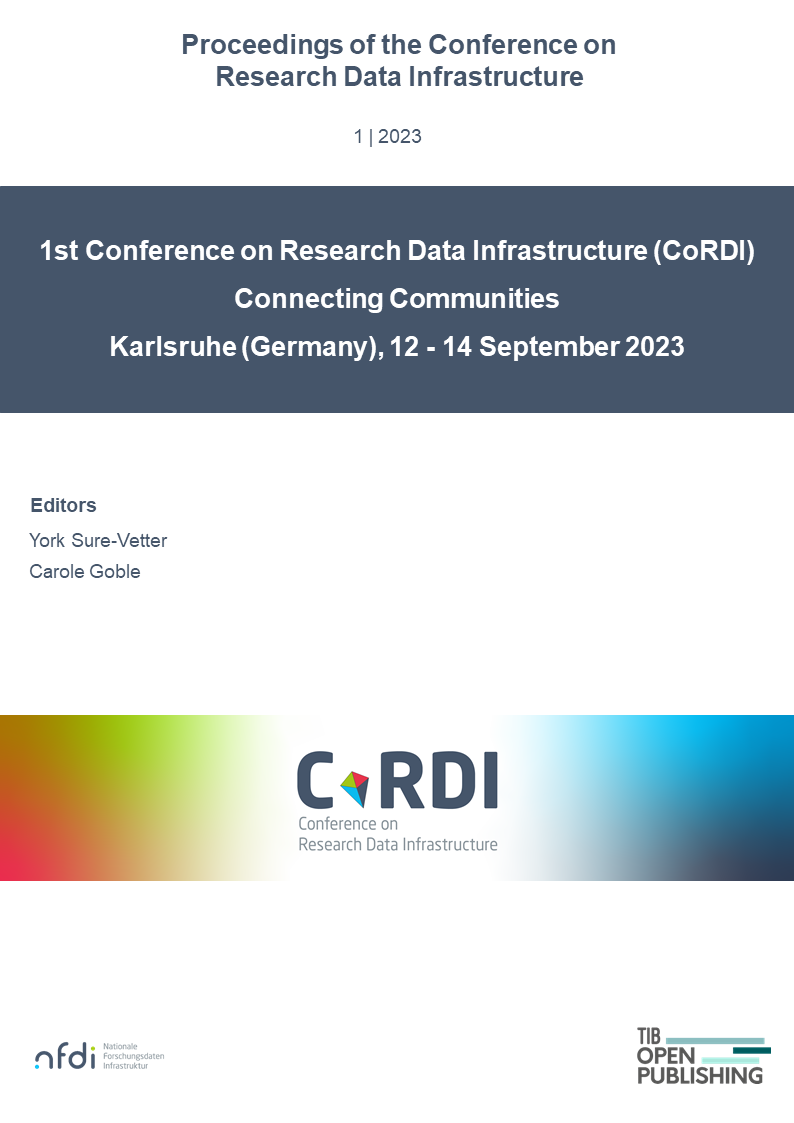 Downloads
Conference Proceedings Volume
Section
Poster presentations II (Call for Papers)
License
Copyright (c) 2023 Barbara Ebert, Sami Domisch, Christin Henzen, Jimena Linares, Kati Mozygemba, Bernhard Miller, Bernhard Seeger, Jörg Seegert
This work is licensed under a Creative Commons Attribution 4.0 International License.
Received 2023-04-26
Accepted 2023-06-30
Published 2023-09-07