Current Insights From Task Area 1 in NFDI4Energy: Building and Serving the Energy Research Community
Keywords:
open data, requirements engineering, FAIR principles
Abstract
Energy system research has become increasingly reliant on modeling and simulation approaches. These endeavors are enabled by continuously improving tools and methods for developing, maintaining and sharing models and data. Knowledge of how to better conduct, share and archive one's research has become increasingly complex and hard to manage for individual researchers or single research groups. Identifying and including relevant scientists from energy research, social sciences, and further disciplines is sometimes difficult. Furthermore, a plethora of best practices and guidelines exist on how to prepare data, models and results in ways that make them easier to discover, verify and build upon. To present a sustainable, problem-solving, technical solution for the energy research community, NFDI4Energy develops in Task Area 1 (TA1) two services of the NFDI4Energy platform. Consequentially, the intention of this abstract within the disciplinary track "Engineering" is to provide an overview of the development process with a special focus on Competence and Best Practices. In addition, it discusses interconnections with other Task Areas as well as the chances and challenges that are associated with those connections. The academic audience, e.g., from the Information Systems and (Software) Engineering domain at CoRDI 2023, can observe and discuss our proposed procedure with other community members. Furthermore, we expect interested individuals to compare the proposed procedures with their own, which can lead to meaningful discussions and knowledge-sharing situations within the Engineering domain.
References
O. Werth, S. Ferenz, and A. Nieße, "Requirements for an open digital platform for interdisciplinary energy research and practice," in: Proc. of the 15th International Conference on Wirtschaftsinformatik, Nürnberg, 2022.
U. Flick, An introduction to qualitative research. London, UK: Sage, 2022.
M. D. Wilkinson, M. Dumontier, I. J. Aalbersberg, G. Appleton, M. Axton, A. Baak, et al., "The FAIR Guiding Principles for scientific data management and stewardship," Sci Data, vol. 3, article 160018, Mar. 2016, doi: https://doi.org/10.1038/sdata.2016.18.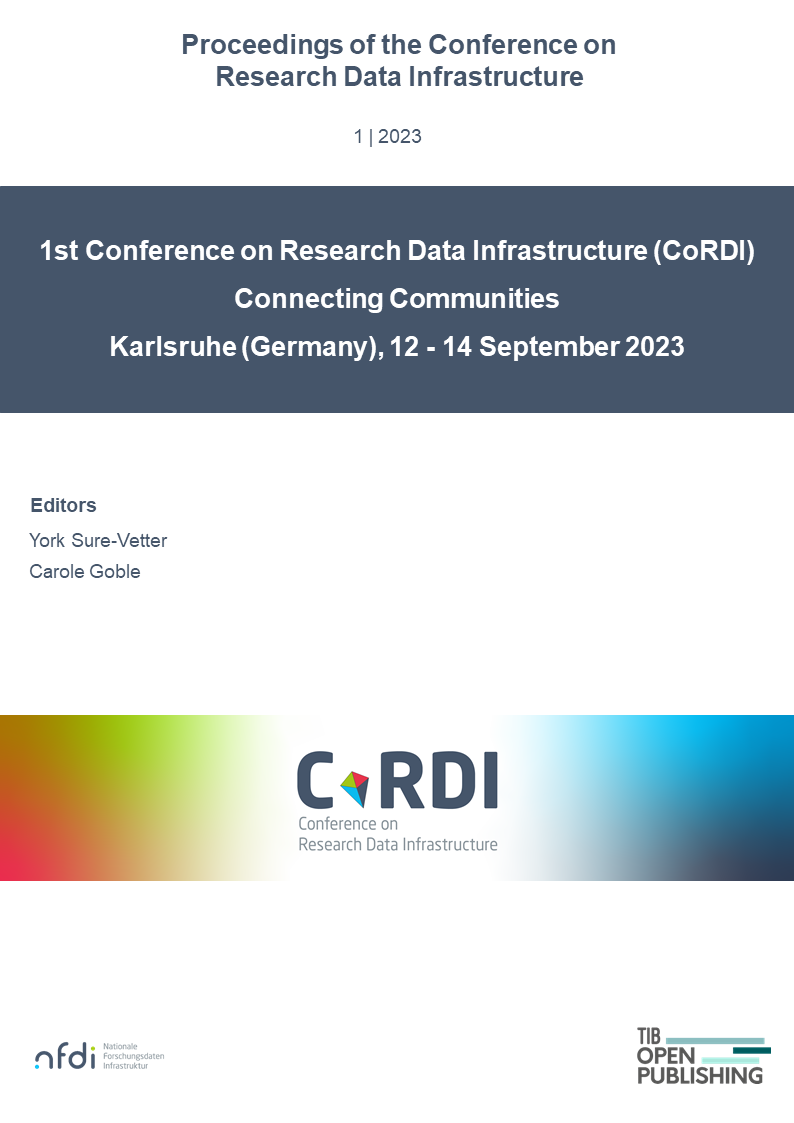 Conference Proceedings Volume
Section
Engineering Sciences
License
Copyright (c) 2023 Oliver Werth, Stephan Ferenz, Astrid Niesse, Reinhard German, Ludwig Huelck, Christof Weinhardt, Berthold Vogel
This work is licensed under a Creative Commons Attribution 4.0 International License.
Received 2023-04-25
Accepted 2023-06-29
Published 2023-09-07