The Data Steward Service Center (DSSC): FAIRagro RDM-Expertise Hub
Keywords:
DSSC, Data Stewards, FAIRagro, Community building, Networking, RDM, Knowledge transfer
Abstract
The Data Steward Service Center (DSSC) is the central institution within FAIRagro to develop data management tools based on the needs of the scientific community. The DSSC organizes the continuous exchange of RDM knowledge and experience with other institutions, channels user requests from the community, and transfers knowledge from the FAIRagro task areas to the FAIRagro data stewards. FAIRagro data stewards are experts in the field of RDM for agrosystems research supervising and will train data curators in our community. Data stewards have core competencies in research data management (e.g., cross-scale from genes, phenomics, management to region; sensitive data, remote sensing, time series, plant, soil and related FAIRagro data). Knowledge and expertise is pooled to provide the full range of expertise to the community in one place to foster the coalescence of the community. The DSSC is headed by a coordinator and will house five data stewards, who are active in the community e.g. train data curators, give legal support. In the course of the project, further institutional or project data stewards will be integrated and the pool of experts will be further expanded. The network to the other NFDI consortia is continuously growing.
References
Svoboda, N., Stahl, U., Möller, M., Everwand, R., Bracke, J., Duttmann, R., Kuhwald, M., Wamhof, T., Bock, D., Tapken, H., Herrmann, L., & Stiene, S. (2023). 2023 survey of agricultural science com-munity needs: data use, data competency, support. (Version 1.0) [Data set]. Leibniz Centre for Agricul-tural Landscape Research (ZALF). https://doi.org/10.20387/BONARES-STHV-TY43
Senft, M., Stahl, U., Svoboda, N., 2021. Dataset: survey about research data management in agricultural sciences in Germany. https://doi.org/10.5073/20211013-105447
Senft M, Stahl U, Svoboda N (2022) Research data management in agricultural sciences in Ger-many: We are not yet where we want to be. PLoS ONE 17(9): e0274677. https://doi.org/10.1371/journal.pone.0274677
DFG subject groups: https://www.dfg.de/dfg_profil/gremien/fachkollegien/liste/index.jsp?id=207
Bierwirth, M., Glöckner, F.O., Grimm, C., Schimmler, S., Boehm, F., Busse, C., Degkwitz, A., Koepler, O., Neuroth, H., 2020. Leipzig-Berlin-Erklärung zu NFDI-Querschnittsthemen der Infra-strukturentwicklung.10.5281/zenodo.3895209.
Glöckner et al. (2020) Glöckner, F.O., Diepenbroek, M., Felden, J., Güntsch, A., Stoye, J., Over-mann, J., Wimmers, K., Kostadinov, I., Yahyapour, R., Müller, W., Scholz, U., Triebel, D., Frenzel, M., Gemeinholzer, B., Goesmann, A., König-Ries, B., Bonn, A., Seeger, B., 2020. NFDI4BioDiversity - A Consortium for the National Research Data Infrastructure (NFDI).10.5281/zenodo.3943645.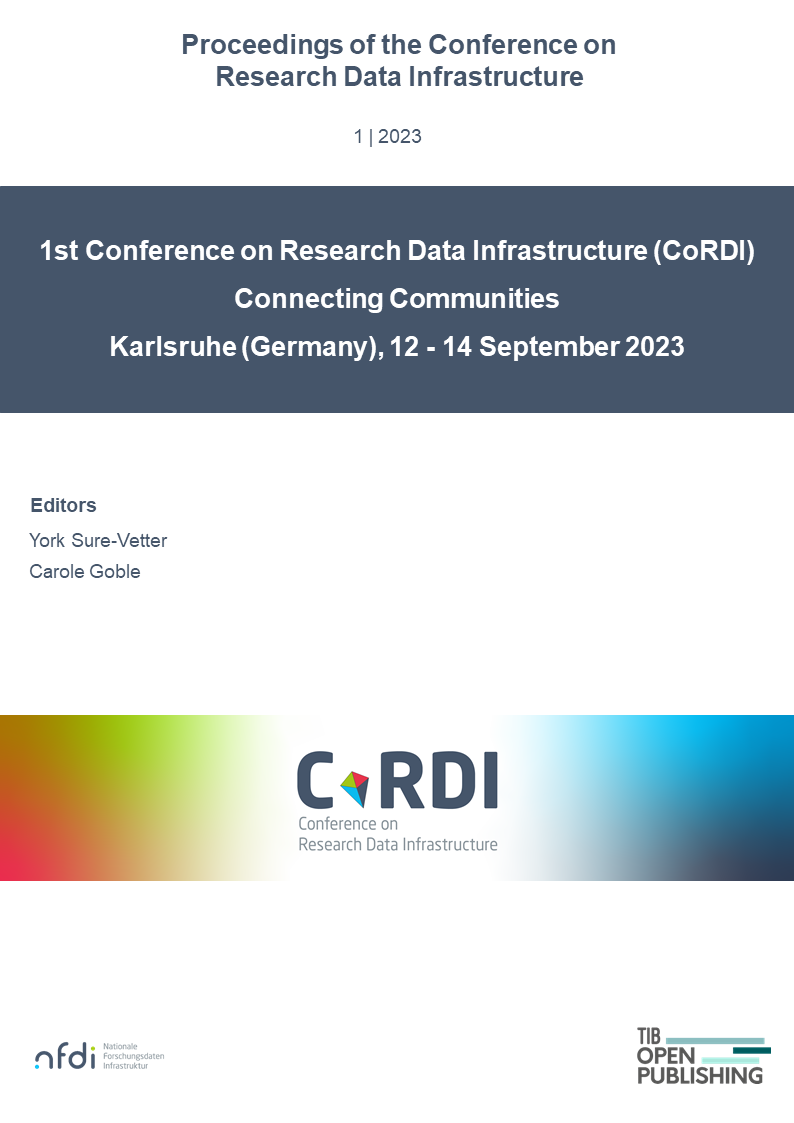 Downloads
Conference Proceedings Volume
Section
Poster presentations II (Call for Papers)
License
Copyright (c) 2023 Nikolai Svoboda, Lucia Vedder, Franziska Böhm, Markus Möller , Elena Rey-Mazón, Marcus Schmidt , Birte Lindstädt , Ulrike Stahl
This work is licensed under a Creative Commons Attribution 4.0 International License.
Received 2023-04-26
Accepted 2023-06-30
Published 2023-09-07