Building the Next Generation of Data Savvy Biomedical Researchers
Keywords:
Data Literacy, Training, Life Sciences, Health Informatics, Promoting RDM
Abstract
Modern research data management in biomedicine requires data literacy skills. The NFDI4Health consortium, the national research data infrastructure for personal health data, addresses this need with several different training concepts for clinical and epidemiological scientists. Both the institutional anchorage of the training and the thematic focus vary and can be assembled from a modular system as required. The aim is to enable multipliers to adapt and use the training modules through open educational resources. In addition, a competency profile for data stewards is under development to support the choice of required training in research institutions. The results will be fed into the NFDI "Education & Training" Section and will contribute to the Data Literacy Alliance in the future.
References
DALIA: Knowledge-Base für "FAIR data usage and supply" als Knowledge-Graph. https://www.fst.tu-darm-stadt.de/forschung_fst/zusammenarbeit_in_der_forschung/dalia/dalia_ueberblick.de.jsp (26.4.2023)
Data Train - Training in Research Data Management and Data Science. https://www.bremen-research.de/data-train/ (26.4.2023)
Garbuglia, Federica, Saenen, Bregt, Gaillard, Vinciane, and Engelhardt, Claudia. (2021). D7.5 Good Practices in FAIR Competence Education (1.2). Zenodo. https://doi.org/10.5281/zenodo.6657165
Herres-Pawlis, Sonja, Pelz, Norbert Kockmann, Roger Gläser, Manuela Richter, Jo-hannes Liermann, Jochen Ortmeyer, et al. "Sektionskonzept Training & Education zur Einrichtung einer Sektion im Verein Nationale Forschungsdateninfrastruktur (NFDI) e.v.". Zenodo, April 21, 2022. https://doi.org/10.5281/zenodo.6475541; https://www.nfdi.de/section-edutrain/?lang=en
Hörner, Tanja, Frank Oliver Glöckner, Rolf Drechsler, und Iris Pigeot. 2021. "Diszip-linübergreifendes Modell Zur Ausbildung Von Forschungsdatenmanagement Und Data Science Kompetenzen: 'Data Train – Training in Research Data Management and Da-ta Science'". Bausteine Forschungsdatenmanagement, Nr. 3 (Dezember). Ger-man:56-69. https://doi.org/10.17192/bfdm.2021.3.8343.
NFDI4Health. https://www.nfdi4health.de/en/ (26.4.2023)
NFDI4Health Task Areas. https://www.nfdi4health.de/en/about-us/task-areas.html (26.4.2023)
NFDI4Health TA5 "Use Cases". https://www.nfdi4health.de/en/about-us/task-areas/ta5-use-cases.html (26.4.2023)
Publisso - Repository for Life Sciences. https://www.publisso.de/en/publishing/repositories/repository-for-life-sciences (26.4.2023)
Shutsko, Aliaksandra, and Birte Lindstädt. 'Nationale Forschungsdateninfrastruktur für personenbezogene Gesundheitsdaten – NFDI4Health: Pilotprojekt zu Bibliotheken und Forschungsdatenkompetenzzentren als Multiplikatoren ("Data Steward")'. GMS Medizin - Bibliothek - Information 20, no. 3 (22 December 2020): Doc27. https://doi.org/10.3205/mbi000484.
The University of Bremen Research Alliance. https://www.uni-bremen.de/research-alliance (26.4.2023)
Wilkinson, Mark D., Michel Dumontier, IJsbrand Jan Aalbersberg, Gabrielle Appleton, Myles Axton, Arie Baak, Niklas Blomberg, et al. 'The FAIR Guiding Principles for Sci-entific Data Management and Stewardship'. Scientific Data 3 (15 March 2016): 160018. https://doi.org/10.1038/sdata.2016.18.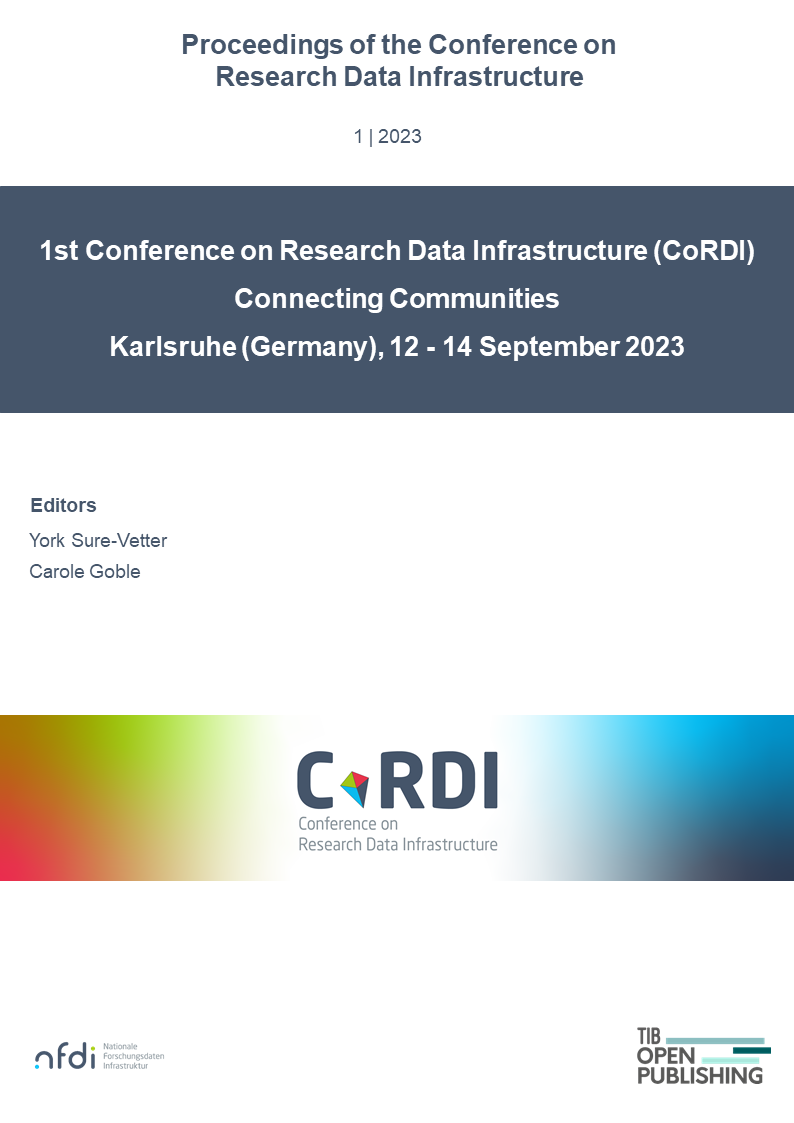 Downloads
Conference Proceedings Volume
Section
Poster presentations II (Call for Papers)
License
Copyright (c) 2023 Jens Dierkes, Birte Lindstädt, Ulrich Sax, Canan Hastik, Julia Fürst, Tanja Hörner, Sebastian Klammt, Ines Perrar, Iris Pigeot, Katja Restel, Carsten Oliver Schmidt, Aliaksandra Shutsko, Dagmar Waltemath, Atinkut Zeleke
This work is licensed under a Creative Commons Attribution 4.0 International License.
Received 2023-04-26
Accepted 2023-06-30
Published 2023-09-07