FAIRmat Guide to Writing Data Management Plans
A Practical Guide for the Condensed-Matter Physics and Materials-Science Communities
Keywords:
Data management plan, Data Life Cycle, FAIR data, NOMAD, Materials Science
Abstract
Research data management is becoming an increasingly important topic due to the growing amounts of types, formats, and sizes of data produced by scientific research. In addition, a growing demand to make data accessible and comprehensible requires standardizing, managing, and planning the data life-cycle. For this reason, many funding agencies now require a data management plan (DMP) as part of submitted research proposals. While some of them and other scientific bodies offer DMP templates, there is no one-size-fits-all solution, due to the heterogeneity of data generated by different scientific disciplines. Here, we present as an example FAIRmat's effort in enhancing data literacy on the topic of DMP aiming to guide physicists and materials scientists to writing DMPs that comply with the requirements of the German Research Foundation (Deutsche Forschungsgemeinschaft, DFG).
References
Deutsche Forschungsgemeinschaft (DFG), Guidelines for Safeguarding Good Re-search Practice. Code of Conduct, 2022. https://doi.org/10.5281/zenodo.6472827
European Commission, The EU Open Science Policy, https://research-and-innovation.ec.europa.eu/strategy/strategy-2020-2024/our-digital-future/open-science_en#documents.
M. Scheffler et al., FAIR Data Enabling New Horizons for Materials Research, Nature 604, 635 (2022).
https://doi.org/10.1038/s41586-022-04501-x
M. D. Wilkinson et al., The FAIR Guiding Principles for Scientific Data Management and Stewardship, Sci Data 3, 160018 (2016).
https://doi.org/10.1038/sdata.2016.18
L. M. Ghiringhelli, C. Carbogno, S. Levchenko, F. Mohamed, G. Huhs, M. Lüders, M. Oliveira, and M. Scheffler, Towards Efficient Data Exchange and Sharing for Big-Data Driven Materials Science: Metadata and Data Formats, NPJ Comput Mater 3, 46 (2017).
https://doi.org/10.1038/s41524-017-0048-5
ELIXIR Research Data Management Kit (RDMkit), Data Life Cycle: Sharing, https://rdmkit.elixir-europe.org/sharing#what-should-be-considered-for-data-sharing.
K. Briney, Data Management for Researchers: Organize, Maintain and Share Your Data for Research Success (Exeter: Pelagic Publishing, UK, 2015).
The Deutsche Forschungsgemeinschaft (DFG), Specification of Requirements Relating to the Handling of Research Data in Funding Proposals, https://www.dfg.de/en/research_funding/announcements_proposals/2022/info_wissenschaft_22_25/.
Science Europe, Practical Guide to the International Alignment of Research Data Management, 2018.
https://doi.org/10.5281/zenodo.4915862
The Deutsche Forschungsgemeinschaft (DFG), Handling of Research Data: Checklist for Planning and Description of Handling of Research Data in Research Projects, 2021.
re3data.org, Registry of Research Data Repositories, https://doi.org/10.17616/R3D.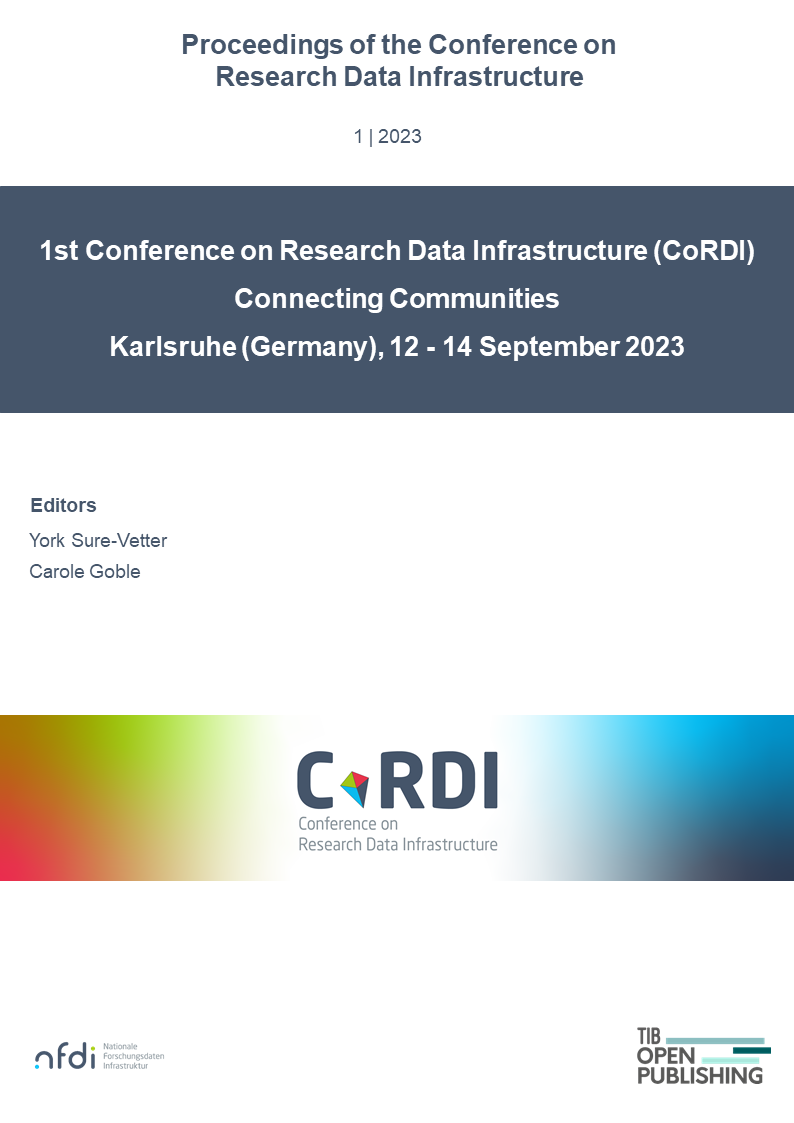 Downloads
Conference Proceedings Volume
Section
Poster presentations II (Call for Papers)
License
Copyright (c) 2023 Ahmed E. Mansour, Lucia Rotheray, Kerstin Helbig, Silvana Botti, Heiko B. Weber, Martin Aeschlimann, Claudia Draxl
This work is licensed under a Creative Commons Attribution 4.0 International License.
Received 2023-04-26
Accepted 2023-06-30
Published 2023-09-07