The HMC Information Portal for Enhanced Metadata Collaboration in the Helmholtz FAIR Data Space
Keywords:
Helmholtz Metadata Collaboration, Information Portal, FAIR
Abstract
The Helmholtz Metadata Collaboration (HMC) platform was launched in late 2019 to turn FAIR (Findable, Accessible, Interoperable, Reusable) research data into reality within the Helmholtz Association and beyond. The Information Portal was initiated to enable the structured cartography of metadata and FAIR landscape of Helmholtz, providing information for multi-level decision-making and creating a curated knowledge base for research data managers, scientists and other stakeholders.
Developed through a top-down approach, 18 categories, and associated metadata schemas were defined and aligned by an HMC taskforce. Data curation followed, with resources collected from different domains based on the aligned metadata schema. The Information Portal is a web application for capturing FAIR data practices across all Helmholtz domains, offering a unified user interface for collecting and exploring  results.
Built using state-of-the-art technologies, including Python and Docker, the Information Portal leverages  GitLab as a database. It offers a public / central  read-only version for stakeholders and a personal instance for curation - synchronized to a GitLab repository. Git-based systems offer advantages, such as raw data accessibility, flexible data curation, easy synchronization, and customizable repositories.
The single-page web application is user-friendly and developed in multiple iterations for an intuitive and flexible interface. The Information Portal is crucial for creating a sustainable, distributed, semantically enriched Helmholtz data space, promoting seamless data sharing and reuse.
References
DESY, D. E.-S. (2023). HIFIS. Deutsches Elektronen-Synchrotron DESY. Retrieved 26.04.2023 from https://hifis.net
Wilkinson, M. D., Dumontier, M., Aalbersberg, I. J., Appleton, G., Axton, M., Baak, A., Blomberg, N., Boiten, J.-W., da Silva Santos, L. B., & Bourne, P. E. (2016). The FAIR Guiding Principles for scientific data management and stewardship. Scientific data, 3(1), 1-9.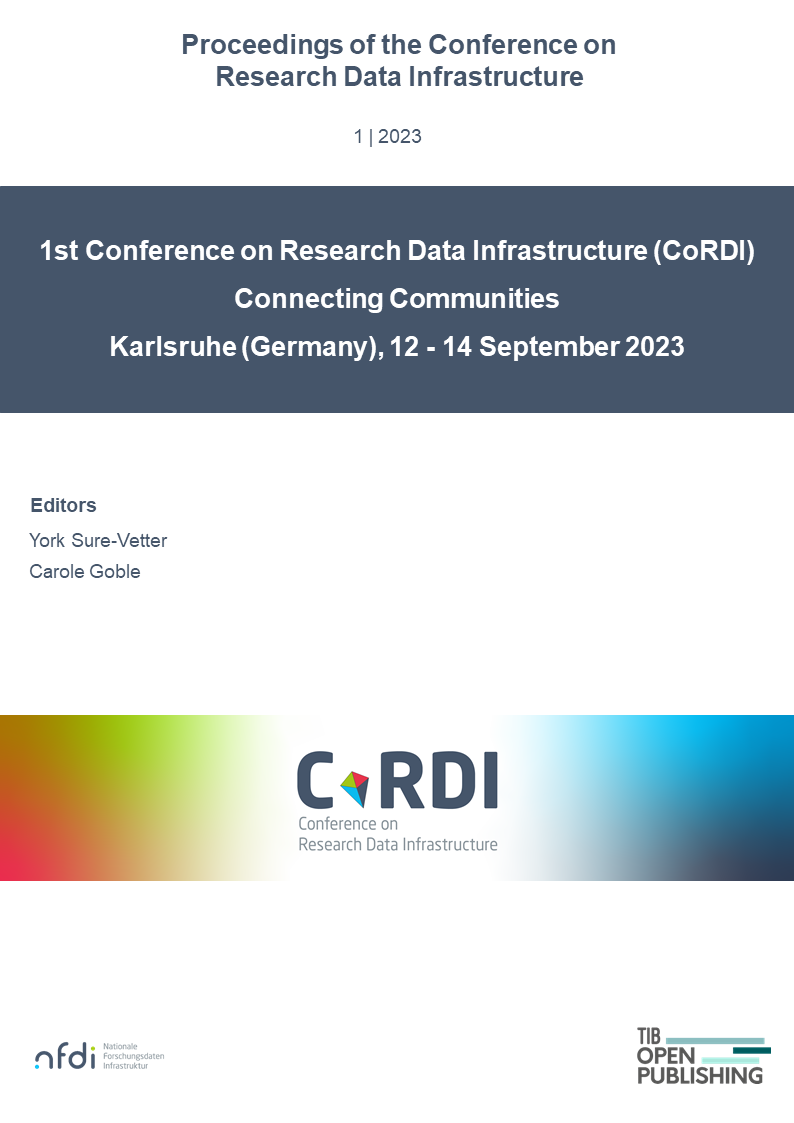 Conference Proceedings Volume
License
Copyright (c) 2023 Lucas Kulla, Jens Bröder, Constanze Curdt, Markus Kubin, Helen Kollai, Christine Lemster, Marco Nolden, Kai Schmieder, Annika Strupp, Karl-Uwe Stucky, Emanuel Söding, Konstantin Pascal Walter, Arndt Witold
This work is licensed under a Creative Commons Attribution 4.0 International License.
Received 2023-04-26
Accepted 2023-06-29
Published 2023-09-07