NFDI4DS Gateway and Portal
Keywords:
Enabling RDM, Linking RDM, FAIR, FDO
Abstract
©NFDI4DataScience (NFDI4DS) is a consortium to support researchers in all stages of the research data lifecycle to conduct their research in line with the FAIR principles. The developed infrastructure targets researchers from a wide range of disciplines in data science and AI.
We present the ideas of the NFDI4DS gateway and the NFDI4DS portal. Two approaches to navigate digital objects (articles, data, machine learning models, workflows, scripts/code, etc.) from various NFDI4DS resources such as the ORKG, the DBLP database, and other research knowledge graphs (KGs). Transparency, reproducibility, and fairness will be fostered by a step-wise integration of existing and newly developed services into the overall system.
With this paper, we want to engage with the community and understand the needs and challenges of researchers in various disciplines regarding data science and AI. Therefore, we will discuss the currently developed prototypes and outline our plans for future development steps.
References
F. Kirstein, K. Stefanidis, B. Dittwald, S. Dutkowski, S. Urbanek, and M. Hauswirth, "Piveau: A large-scale open data management platform based on semantic web technologies," in The Semantic Web, A. Harth, S. Kirrane, A.-C. Ngonga Ngomo, et al., Eds., Cham: Springer International Publishing, 2020, pp. 648–664, ISBN: 978-3-030-49461-2.
L. L. Haak, M. Fenner, L. Paglione, E. Pentz, and H. Ratner, "ORCID: a system to uniquely identify researchers," Learn. Publ., vol. 25, no. 4, pp. 259–264, 2012. DOI: 10.1087/20120404. [Online]. Available: https://doi.org/10.1087/20120404.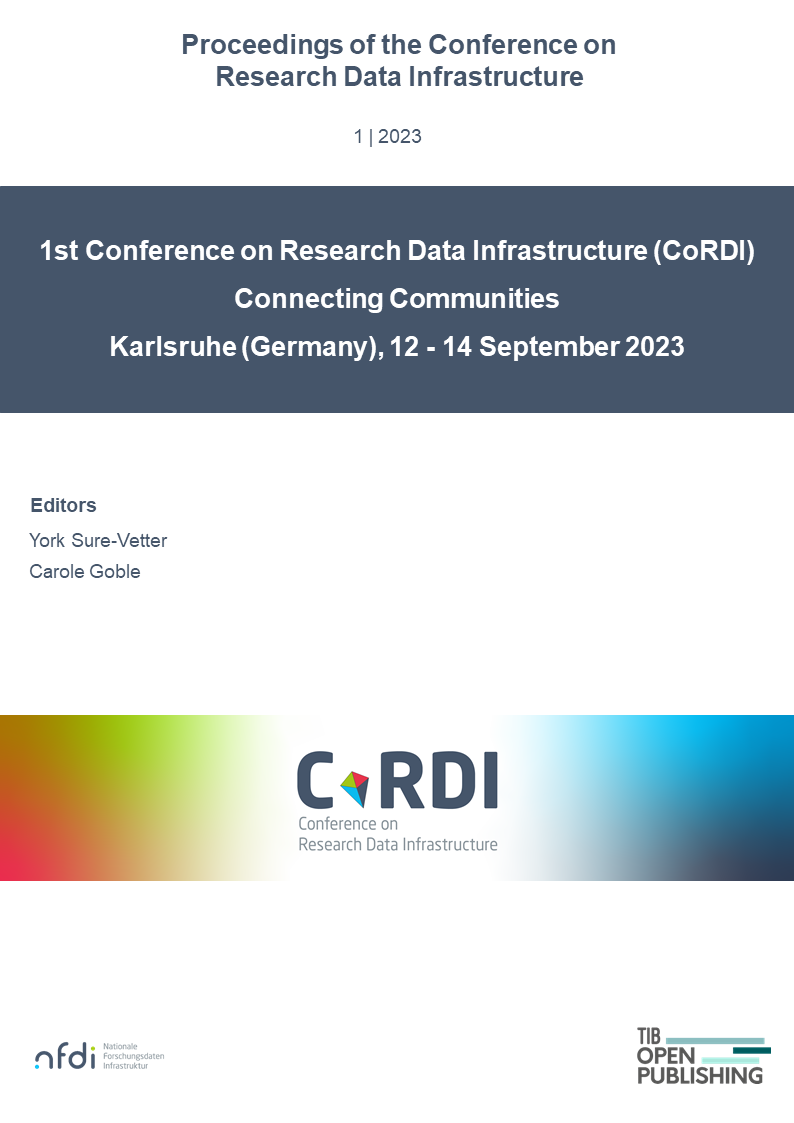 Downloads
Conference Proceedings Volume
Section
Poster presentations II (Call for Papers)
License
Copyright (c) 2023 Ricardo Usbeck, Tilahun Abedissa Taffa, Rudy Alexandro Garrido Veliz, Rana Abdullah, Najeebullah Shams, Bianca Wentzel, Zongxiong Chen, Sonja Schimmler
This work is licensed under a Creative Commons Attribution 4.0 International License.
Received 2023-04-26
Accepted 2023-06-30
Published 2023-09-07