Data Publication for Personalised Health Data
A New Publication Standard Introduced by NFDI4Health
Keywords:
Data publication, NFDI, FAIR, search portal, epidemiological studies, clinical trials, NFDI4Health consortium
Abstract
Health data collected in clinical trials and epidemiological as well as public health studies cannot be freely published, but are valuable datasets whose subsequent use is of high importance for health research. The National Research Data Infrastructure for Personal Health Data (NFDI4Health) aims to promote the publication of such health data without compromising privacy. Based on existing international standards, NFDI4Health has established a generic information model for the description and preservation of high-level metadata describing health-related studies, covering both clinical and epidemiological studies. As an infrastructure for publishing such preservation metadata as well as more detailed representation information of study data (e.g. questionaries and data dictionaries), NFDI4Health has developed the German Central Health Study Hub. Content is either harvested from existing distributed sources or entered directly via a user interface. This metadata makes health studies more discoverable, and researchers can use the published metadata to evaluate the content of data collections, learn about access conditions and how and where to request data access. The goal of NFDI4Health is to establish interoperable and internationally accepted standards and processes for the publication of health data sets to make health data FAIR.
References
Fluck, J., Lindstädt, B., Ahrens, W., Beyan, O., Buchner , B., Darms, J., Depping, R., Dierkes, J., Neuhausen, H., Müller, W., Zeeb, H., Golebiewski, M., Löffler, M., Löbe, M., Meineke, F., Klammt, S., Fröhlich, H., Hahn, H., Schulze, M., Pischon, T., Nö-thlings, U., Sax, U., Kusch, H., Grabenhenrich, L., Schmidt, C.O., Waltemath, D., Semler, S., Gehrke, J., Kirsten, T., Praßer, F., Thun, S., Wieler, L., Pigeot, I., "NFDI4Health – Nationale Forschungsdateninfrastruktur für personenbezogene Ge-sundheitsdaten". BFDM, Nr. 2, S. 72–85 (2021). DOI: https://doi.org/10.17192/bfdm.2021.2.8331
Schmidt CO, Fluck J, Golebiewski M, Grabenhenrich L, Hahn H, Kirsten T, u. a. CO-VID-19-Forschungsdaten leichter zugänglich machen – Aufbau einer bundesweiten In-formationsinfrastruktur, Bundesgesundheitsblatt Gesundheitsforschung Gesundheits-schutz. 2021;64(9):1084–92 (2021). DOI: https://doi.org/10.1007/s00103-021-03386-x
Abaza H, Klopfenstein SAI, Golebiewski M, Schmidt CO, Shutsko A, Vorisek CN, Darms J., NFDI4Health Task Force COVID-19, NFDI4Health. "Metadata schema of the NFDI4Health and the NFDI4Health Task Force COVID-19 (V3_0). (2022). DOI: https://doi.org/10.4126/FRL01-006439110.
Wilkinson, M., Dumontier, M., Aalbersberg, I. et al. The FAIR Guiding Principles for scientific data management and stewardship. Sci Data 3, 160018 (2016). https://doi.org/10.1038/sdata.2016.18
DataCite. . Last access: April, 21 2023.
ECRIN Clinical Research Metadata Repository. https://ecrin.org/clinical-research-metadata-repository Last access: April, 21 2023.
"International Clinical Trials Registry Platform (ICTRP)" https://www.who.int/clinical-trials-registry-platform. Last access: April, 21 2023.
Deutsches Register Klinischer Studien (DRKS) - German Clinical Trials Register https://drks.de/search/de. Last access: April, 21 2023.
U.S. National Library of Medicine (NLM) at the U.S. National Institutes of Health (NIH), ClinicalTrials.gov. https://clinicaltrials.gov. Last access: April, 21 2023.
SNOMED International, "SNOMED CT" https://www.snomed.org/. Last access: April, 21 2023.
Health Level Seven International (HL7), "Fast Healthcare Interoperability Resources (FHIR)" https://www.hl7.org/fhir/. Last access: April, 21 2023.
Doiron D, Marcon Y, Fortier I, Burton P, Ferretti V., "Software Application Profile: Opal and Mica: open-source software solutions for epidemiological data management, harmonization and dissemination", International Journal of Epidemiology, 46(5):1372–8 (2017). DOI:https://doi.org/10.1093/ije/dyx180.
King, G., "An Introduction to the Dataverse Network as an Infrastructure for Data Sharing", Sociological Methods & Research, 36(2), 173–199 (2017). DOI:https://doi.org/10.1177/0049124107306660.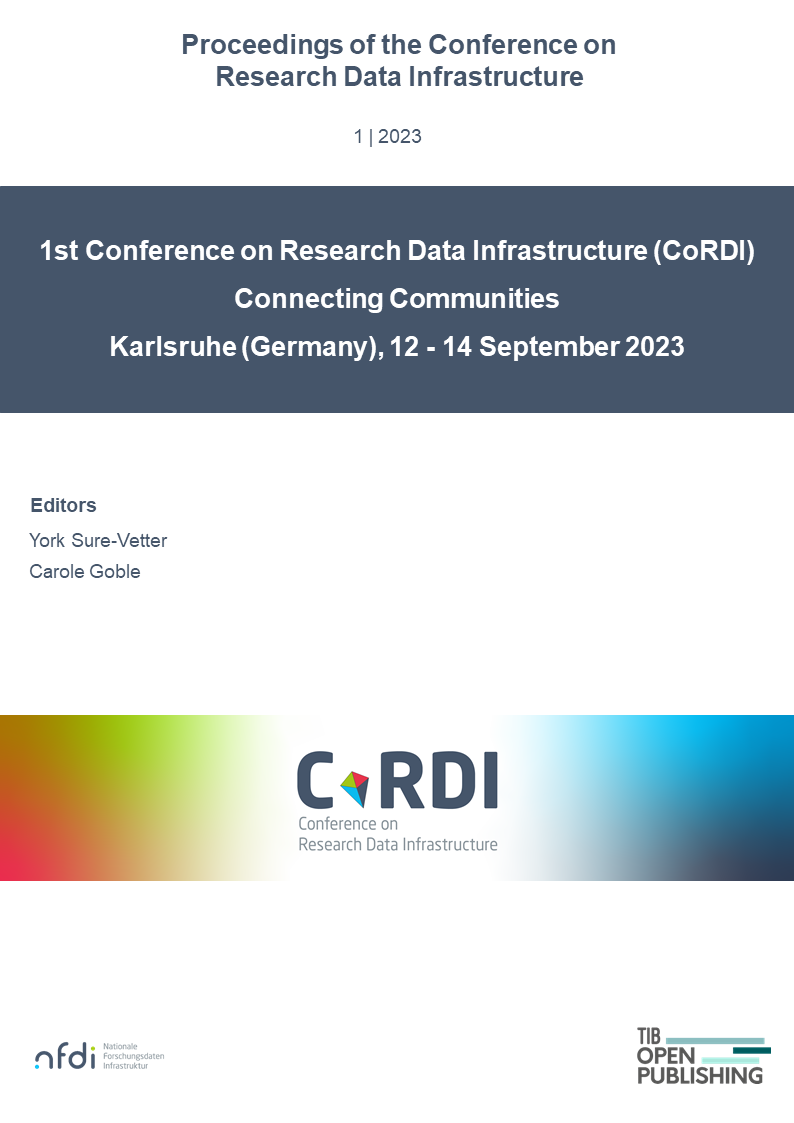 Downloads
Conference Proceedings Volume
License
Copyright (c) 2023 Juliane Fluck, Martin Golebiewski, Johannes Darms
This work is licensed under a Creative Commons Attribution 4.0 International License.
Received 2023-04-26
Accepted 2023-06-29
Published 2023-09-07