The NFDI4Health – Task Force COVID-19
Keywords:
health data, COVID-19 pandemic
Abstract
COVID-19 posed one of the greatest challenges to individuals and societies worldwide in recent decades. Public health research, epidemiological and clinical studies were essential to track the spread of SARS-CoV-2 responsible for the pandemic and its variants, to better understand the consequences for health and social life, and to identify effective treatment and vaccination methods. Such studies provided policy makers, industry, health care providers, and society with an empirical basis for containing and managing the pandemic and for making decisions that were based on the most recent data. Therefore, the COVID-19 pandemic excellently illustrates the relevance of data sharing and the importance of providing an effective infrastructure. From the researchers' perspective, there were significant challenges associated with this request. In a very short time, numerous projects, studies, and networks had emerged to investigate the pandemic, making it increasingly difficult to maintain an overview. Such an overview would have been essential to coordinate research activities, avoid unplanned duplication of research, and to implement studies in a harmonized manner.
References
American Society for Microbiology (2022) COVID-19 research registry. https://asm.org/COVID/COVID-19-Research-Registry/Epidemiology. Last access: April 15, 2023
Medical Informatics Initiative (2021) Overview of Covid-19 research. https://www.medizininformatik-initiative.de/en/node/410. Last access: April 15, 2023
German Data Forum (2023) Studien zur Corona-Pandemie. https://www.konsortswd.de/ratswd/themen/corona/studien/. Last access: April 15, 2023
Network University Medicine (2023) Homepage. https://www.netzwerk-universitaetsmedizin.de/. Last access: April 15, 2023
Sass, J., Bartschke, A., Lehne, M. et al. The German Corona Consensus Dataset (GECCO): a standardized dataset for COVID-19 research in university medicine and beyond. BMC Med Inform Decis Mak 20, 341 (2020). https://doi.org/10.1186/s12911-020-01374-w
Wilkinson, M., Dumontier, M., Aalbersberg, I. et al. The FAIR Guiding Principles for scientific data management and stewardship. Sci Data 3, 160018 (2016). https://doi.org/10.1038/sdata.2016.18
NFDI4Health (2023) Task Force COVID-19. https://www.nfdi4health.de/en/task-force-covid-19.html. Last access: April 15, 2023
NFDI4Health (2023) NFDI4Health – Eine Nationale Forschungsdateninfrastruktur für personenbezogene Gesundheitsdaten. https://www.nfdi4health.de/en/. Last access: April 15, 2023
World Health Organization (2023) ICTRP search portal. https://www.who.int/clinical-trials-registry-platform/the-ictrp-search-portal. Last access: April 15, 2023
German Clinical Trials Register (DRKS) (2023) Deutsches Register Klinischer Studien. https://www.drks.de/. Last access: April 15, 2023
Schmidt, C. O., Fluck, J., Golebiewski, M., Grabenhenrich, L., Hahn, H., Kirsten, T., Klammt, S., Löbe, M., Sax, U., Thun, S., Pigeot, I., & NFDI4Health Task Force Covid-19 (2021). COVID-19-Forschungsdaten leichter zugänglich machen – Aufbau einer bundesweiten Informationsinfrastruktur [Making COVID-19 research data more accessible-building a nationwide information infrastructure]. Bundesgesundheitsblatt, Gesundheitsforschung, Gesundheitsschutz, 64(9), 1084–1092. https://doi.org/10.1007/s00103-021-03386-x
Schmidt CO, Darms J, Shutsko A, et al. Facilitating Study and Item Level Browsing for Clinical and Epidemiological COVID-19 Studies. Studies in Health Technology and Informatics. 2021 May;281:794-798. DOI: 10.3233/shti210284. PMID: 34042687.
Lisa Langnickel, Johannes Darms, Katharina Heldt, Denise Ducks, Juliane Fluck, Continuous development of the semantic search engine preVIEW: from COVID-19 to long COVID, Database, Volume 2022, 2022, baac048, https://doi.org/10.1093/database/baac048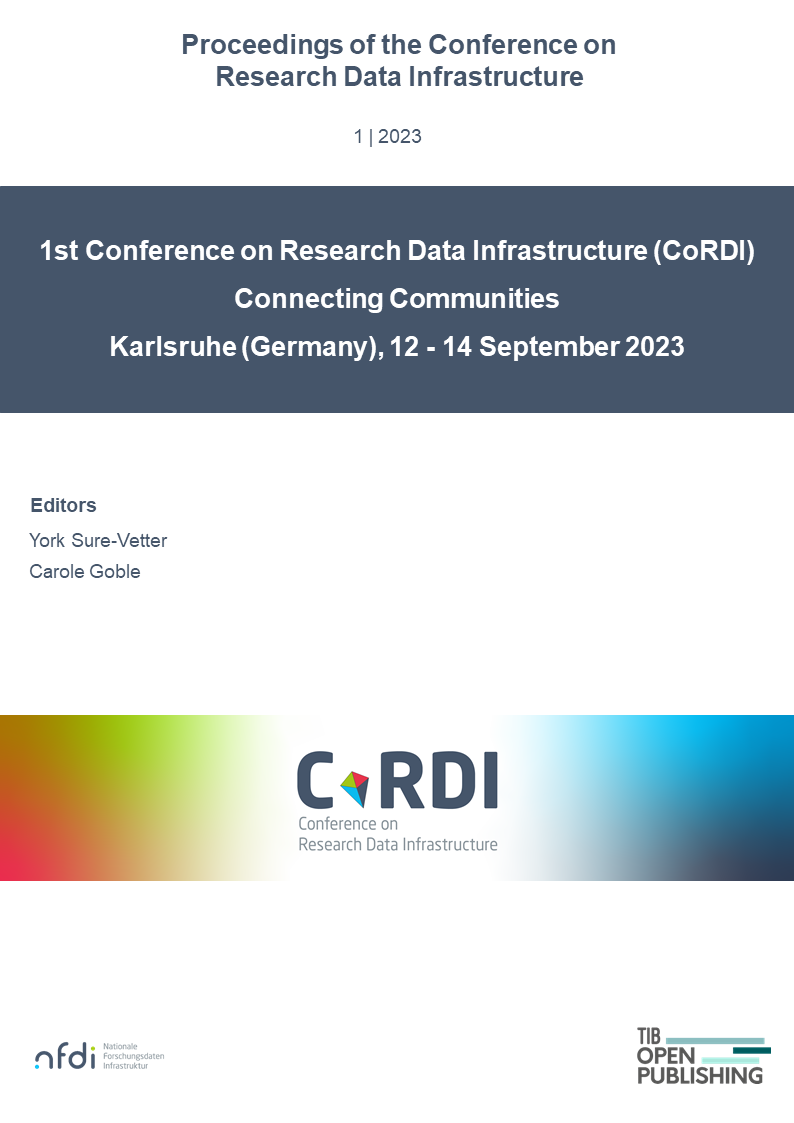 Downloads
Conference Proceedings Volume
License
Copyright (c) 2023 Iris Pigeot, Juliane Fluck, Johannes Darms, Carsten Oliver Schmidt
This work is licensed under a Creative Commons Attribution 4.0 International License.
Received 2023-04-26
Accepted 2023-06-29
Published 2023-09-07