Data Collections Explorer
An Easy-to-Use Tool for Sharing and Discovering Research Data
Keywords:
NFDI, NFDI4Ing, FAIR, Repositories
Abstract
There is a wide variety of archives, databases, and repositories currently available that provide access to research data. However, basic information about these systems is often difficult to gather, such as whether there are limits to the size of data sets that can be published or whether there is any publication fee that applies. In addition to that, there are plenty of research groups publishing their research data sets independently of these infrastructures, making it difficult for scientists to find them since they are not centrally registered. Research data must be easily discoverable and accessible for scientists to use it effectively. The Data Collections Explorer [1, 2], developed within the national research data infrastructure for the engineering sciences NFDI4Ing, is an easy-to-use information system addressing these needs. It is a low threshold information system that provides an overview of research data repositories, archives, databases as well as individually published data sets. Similar systems exist in other subject areas, for example the Data Repository Finder [3] focusing on the medical, life and social sciences. Contrary to the Data Collections Explorer, the Data Repository Finder only lists repositories.
References
NFDI4Ing Data Collections Explorer, data-collections.nfdi4ing.de, last accessed: 2023-04-25
Ost, P. (2022). Data Collections Explorer. Helmholtz Metadata Collaboration | Confer-ence 2022, Online. https://doi.org/10.5445/IR/1000151429
Data Repository Finder, data-repository-finder.ll.mit.edu, last accessed: 2023-07-17
re3data.org - Registry of Research Data Repositories. https://doi.org/10.17616/R3D last accessed: 2023-04-25
Kindling, M., Pampel, H., van de Sandt, S., Rücknagel, J., Vierkant, P., Kloska, G., Witt, M., Schirmbacher, P., Bertelmann, R., Scholze, F. (2017). The Landscape of Research Data Repositories in 2015: A re3data Analysis. D-Lib Magazine, 23(3/4). https://doi.org/10.1045/march2017-kindling
Strecker, D., Bertelmann, R., Cousijn, H., Elger, K., Ferguson, L. M., Fichtmüller, D., Goebelbecker, H.-J., Kindling, M., Kloska, G., Nguyen, T. B., Pampel, H., Petras, V., Schabinger, R., Schnepf, E., Semrau, A., Trofimenko, M., Ulrich, R., Upmeier, A., Vierkant, P., Weisweiler, N. L., Wang, Y., Witt, M. (2021). Metadata Schema for the Description of Research Data Repositories: version 3.1, re3data, 37 p. https://doi.org/10.48440/re3.010
The DFG subject area structure, https://www.dfg.de/en/research_funding/proposal_funding_process/interdisciplinarity/subject_area_structure/index.html, last accessed: 2023-07-18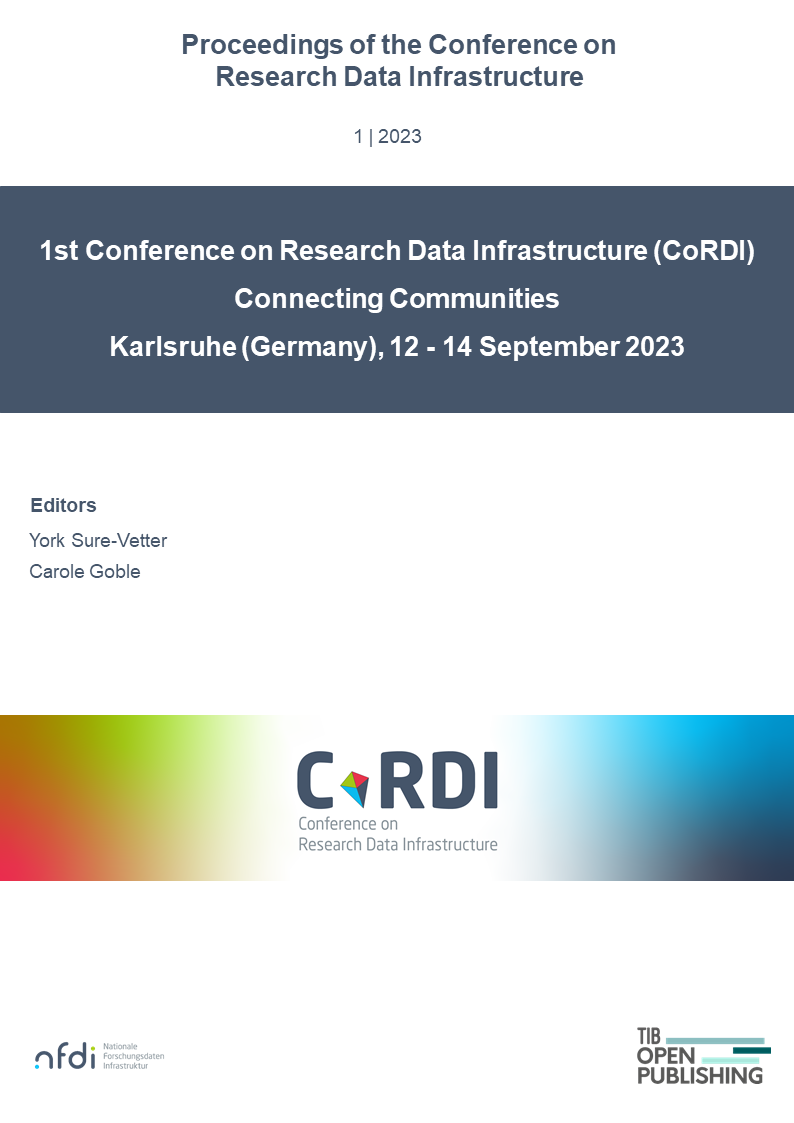 Conference Proceedings Volume
Section
Engineering Sciences
License
Copyright (c) 2023 Philipp Ost, Yusra Shakeel, Philipp Tögel
This work is licensed under a Creative Commons Attribution 4.0 International License.
Received 2023-04-26
Accepted 2023-06-29
Published 2023-09-07